-
"Headshine's rise from bonfires and beer to the House of Blues with legendary acts can be summed up by one piece of advice..." The World Famous KROQ
New record coming in 2014
New song "Diamond in the Sun" by Headshine is now featured on Big B's new album "Fools Gold" in stores nationwide with the Dirty Heads, P!nk, Slightly Stoopid and more. You can download the new single "One Heart" free on Facebook.
• Instagram • Facebook • Myspace • Twitter • Tumblr • Soundcloud • iTunes
Bio: Mixing acoustic coastal-rock and a feel-good vibe, Headshine takes you on a free-spirited ride up the coast with a sound track of life, love and the space between. A song that RAS wrote, sang and played on acoustic guitar caught the ear of producer Jim Perkins (Big B, Scott Russo, Cisco Adler, Kaleo of Pepper, Everlast). Jim showed the one-take demo to his business partner along with some other close friends in the music industry. For some reason, they wanted to hear more.
With a touch of reggae and California sunshine, the Huntington Beach singer/songwriter has cultivated a surfer/acoustic sound called Headshine; and it's what happens when something comes alive inside and begins to radiate. One moment you're singing along and the next thing you know you're at a show rockin' a shaker, or crowd surfing with a bunch of good friends. Listen to the music and your head will shine.
The debut record "Better Things" by Headshine caught the attention of CBS radio. "Headshine, create music which conjures up these quintessential California moments with warm-bodied acoustics, Bob Marley-inspired reggae riffs, persuasive percussion, and a fearless fader scratching that gives their sound an understated edge. Much like the typical native Californian, Headshine is a musical mosaic of melodies effortlessly melting into each other, supported by luminous lyrics prompting the listeners towards self-compassion and positive action. This sound transmuted into feeling is the kind of experience that has prompted many a youthful daydreamer into finding their own dreams with the peaceful churn of the Pacific Ocean as their soundtrack." -KROQ
Word of mouth kick-started the Huntington Beach artist toward the national stage. Headshine has recently opened tour dates for Ziggy Marley, Jamaican reggae-legends The Wailers, The English Beat, Natty Vibes and Sashamon from Hawaii, Al Anderson's Original Wailers, pop-punk's Less Than Jake, the national rock band Lit, and The Supervillians.
From stripped-down acoustic shows to main stage concerts and festivals, Headshine is also growing in the college market with performances at Oregon State University, Southern Illinois University, Idaho State University, Whitworth University in Spokane Washington, UC Davis, Fresno State University, Cal State University Northridge, Cal State University Dominguez Hills, Cal State University Fullerton, Cal State University Long Beach, San Diego State University. The debut single Better Things became a local favorite on 91X, Sophie103.7, 102.1 KPRI, 92.9 KJEE, and Headshine has also performed events with 93.3 KTCL, X107.5 KXTE and 94.1 KSLG in Humboldt.
Headshine was nominated for the 2013 OC Music Awards and was recently interviewed by KROQ after opening tour dates for Ziggy Marley, The Original Wailers, and The English Beat. Headshine performed live on television at Sundance Film Festival, and also at Morro Bay Beer Festival, Hops in Humboldt, and Palms Casino Reggae Pool Party in Las Vegas.
Headshine is now finishing a new record with producer Jim Perkins, and more shows are being added. Come say hi on Instagram, Facebook, Twitter and Tumblr.
"Better Things" by Headshine

• Debut CD: SOLD OUT! Now on iTunes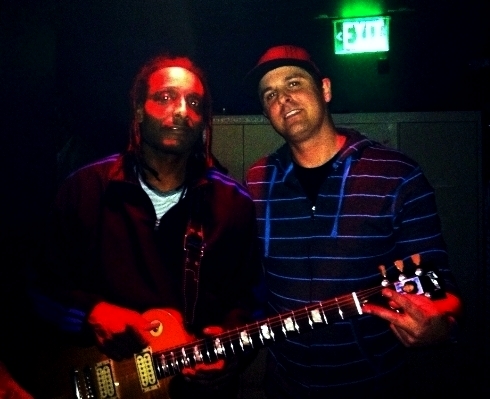 • Ras backstage with Grammy-nominated Al Anderson (Original Guitarist for Bob Marley and the Wailers)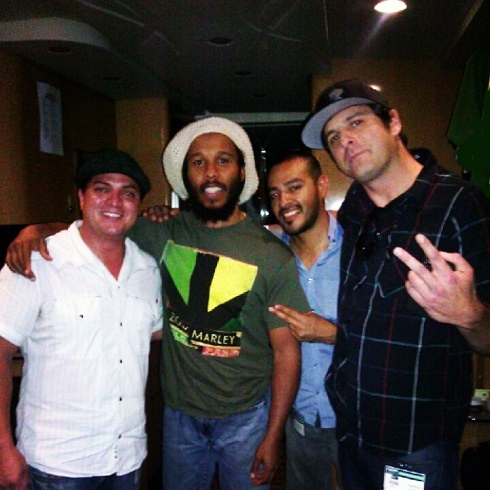 • Headshine on tour with Ziggy Marley
• Ras backstage with Dave Wakeling from The English Beat
National Press / Media: More Reviews
"Headshine realize their dreams with chill, acoustic "Cali" rock. After being nominated for Best Acoustic Band for the OC Music Awards last year, Headshine embarked on a massive tour around the country which culminated with a show with The Wailers." KROQ
Ever tried catching an overhead wave without paddling? Well if you're feelin' lucky, we got a few words for you... "vaya con dios". US Open surf champ Brett Simpson makes the impossible look easy while shooting through a tube in Mexico. Check out "Simpo's No-Paddle Pit" on Surfline featuring new music by Headshine that received 125,000+ views.